Lisa, on the right, and her son Malcolm came from Washington, DC. Twenty years ago, Lisa participated in the Selma-Montgomery re-enactment and she thought it was so important for young people to experience that she brought her 16-year-old son this year. The teacher who inspired her, Katherine Flowers, now lives in Montgomery and helped to organize this year's event.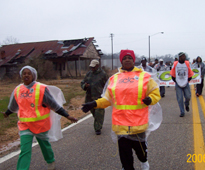 Shirley and Kimberly of Birmingham led the march, keeping the pace for all of us.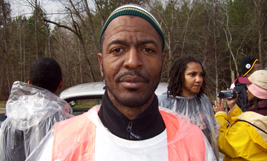 Don Bevel, eldest son of legendary Civil Rights leader James Bevel, now lives in Selma and joined the walk.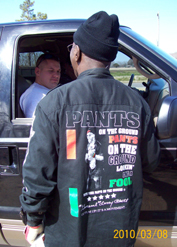 Do you watch American Idol? Did you see the episode with Larry Pratt and his "Pants on the Ground" performance? Larry is also a longtime civil rights activists and he was on the march, too.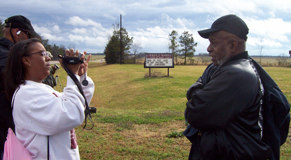 Our good friend and leader, Gordon Sellers, is being interviewed by fellow marcher, Erica Fox, who works for public radio in Huntsville, AL. We also walked with Erica five years ago, the last time SCLC did the Selma-Montgomery renactment.
Strong women of the Movement. On the left is Dr. Gwen Patton, who has focused on youth in the movement ever since she was a youth leader for the Montgomery Improvement Association. In the middle is another original walker, Ms. Anna. On the right is Faya Rose Toure, lawyer and co-founder of the National Voting Rights Museum in Selma.
Standing in front of the City of St. Jude, the final campsite for the marchers in 1965. Throughout the pilgrimage it felt like we were walking on holy ground. What a privilege it was to participate.