The 9th Annual Peace Pilgrimage to Close the SOA [Nov. 15-23, 2008] was the coldest one yet. But we were warmly hosted along the way in East Point, Peachtree City, Newnan, Hogansville, LaGrange and with our friends at Vine and Fig Tree in Fredonia, AL. Everyone we stay with is working for the good of their community and the world, so the seriousness of the cause is balanced by the good we see in our hosts' hearts and homes. We hope this year will be the last to walk to the SOA and that Congress will finally shut the school that instructs dictators and torturers down. But we also hope that the bonds of community we have formed over these years will abide.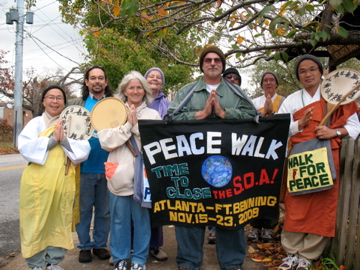 Starting from the Atlanta Dojo
Our friend Tom Kisielewski from Florida stands in front, ready to lead the way.